Deborah Kaspari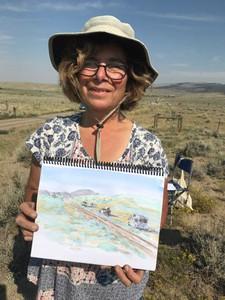 When we went to Wyoming to see the total solar eclipse, we aimed for a remote spot...Shirley Basin, just south of Casper. Turns out we were in good company! Artist and naturalist
Debby Kaspari
was among the many people who had the same genius idea that we did. Carl's sister Becky noticed her sketching all the parked vehicles, and they both saw the Guerrilla Painter van just uphill from where they were.
Debby is a member of Society of Animal Artists, Artists for Conservation, The Guild of Natural Science Illustrators and the Oklahoma Visual Arts Coalition.
It was a once-in-a-lifetime adventure, and if you visit Debby's website, you'll see that such adventures are, for her, par for the course.
---
Leave a comment