Lisa Fricker's Portrait Demo of the Guerrilla Painter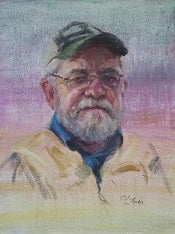 When we attended the California Plein Air Painters' International Challenge at Yosemite last month, Carl sat for a portrait demo by portraitist Lisa Fricker.
Among many other commissions, she has portrayed 92 inductees for the Astronaut Hall of Fame at Kennedy Space Center.
"Inspired by light, moved by relationships, intrigued by mystery, and seduced by color, I have been moving from traditional portraiture to a focus on the visual poetry of the commonplace. I am fascinated by people and their continuing self-creation. Drawing on principles of science has become a surprising source of visual inspiration. The universe abounds with astounding beauty, and simultaneously random & deterministic qualities at every scale. I explore that experience, and our human place in it, through paint."
---
Leave a comment