Thanks, Mary Qian ;-)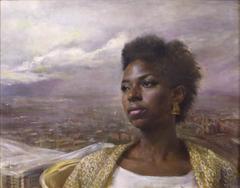 Last week, our warehouse accidentally sent out sixteen (sixteen!) of our new Penrose frames to a customer who had ordered sixteen of our new oil-primed linen panels...It *has* been hectic lately! Fortunately, the recipient was Mary Qian. She is a real pro, and she knew just what to do. When we offered her said frames at a deep discount, she contacted her cohorts at the Palette and Chisel in Chicago. Errol Jacobson stepped up to the plate and made sure all the frames would find a good home.
Thanks so much to Mary (one of her portraits, "Erin" is shown above) and Errol, whose painting "Driving Rain" is shown here. 
---
Leave a comment